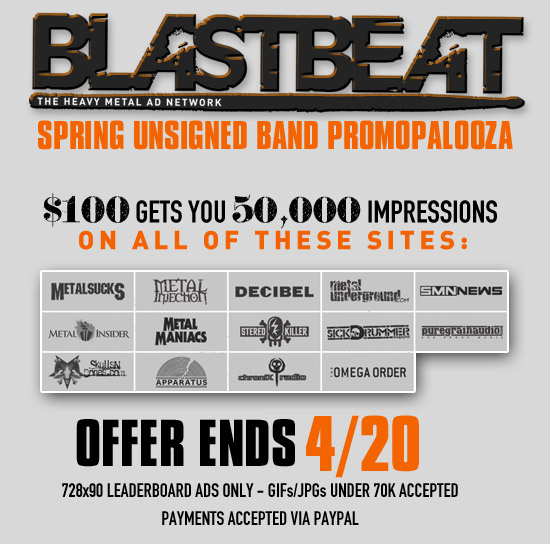 The Blast Beat Network - the agency that sells banner ads on behalf of Metal Injection, MetalSucks, Decibel, MetalUnderground.com, MetalInsider.net and a bunch of other awesome metal sites - would like to extend an offer to unsigned bands for a great way to get your band noticed. For a limited time, we are offering unsigned bands the opportunity to have ads on all the sites in The Blast Beat Network at a special unsigned band discount that's less than what the record labels pay!
For $100, your 728x90 leaderboard ad (up top of the site) will be shown 50,000 times across the network.
To take advantage of this special deal, follow these instructions:
Step 1) Send a payment of $100 to paypal [at] blastbeatnetwork [dot] com.
Step 2) Email your banner - 728x90 pixels, jpg or gif only, maximum of 70k file size - to info [at] blastbeatnetwork [dot] com, along with the URL you'd like the banner to point to (your band's MySpace page, Bandcamp, store, etc). That's it! You'll receive a confirmation email once the campaign is live.